PICK OF THIS WEEK - Week#44
* * * * * * * * * *

This work is by Valerie Weilmuenster.
'October'
This work is done in gouache on Frankfort cream paper, size is 16x20. The lettering is pressurized san serif Roman caps, in varying shades of orange and red. The leaf pattern was embossed into the paper and the 'wind' accent was done with a wide brush to accentuate the lettering and reflect the tone of the poem.
_____________________________________________________

* * * * * * * * * *
_____________________________________________________
"26 Seeds": One Year in One Minute #1
https://www.youtube.com/watch?v=qH7dq00wQp4

26 Seeds: 2024 Zoom curriculum
https://www.dropbox.com/s/t8qf3tc2f91u4ux/26%20Seeds%3A%202024%20%20%20Zoom%20curriculum%20.jpg?dl=0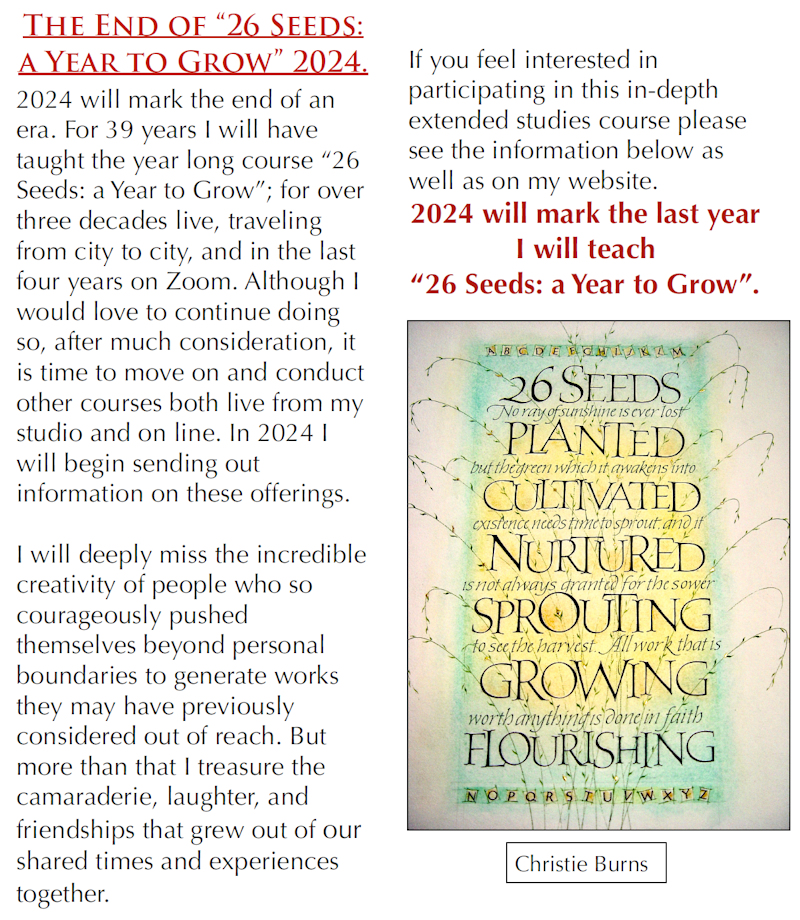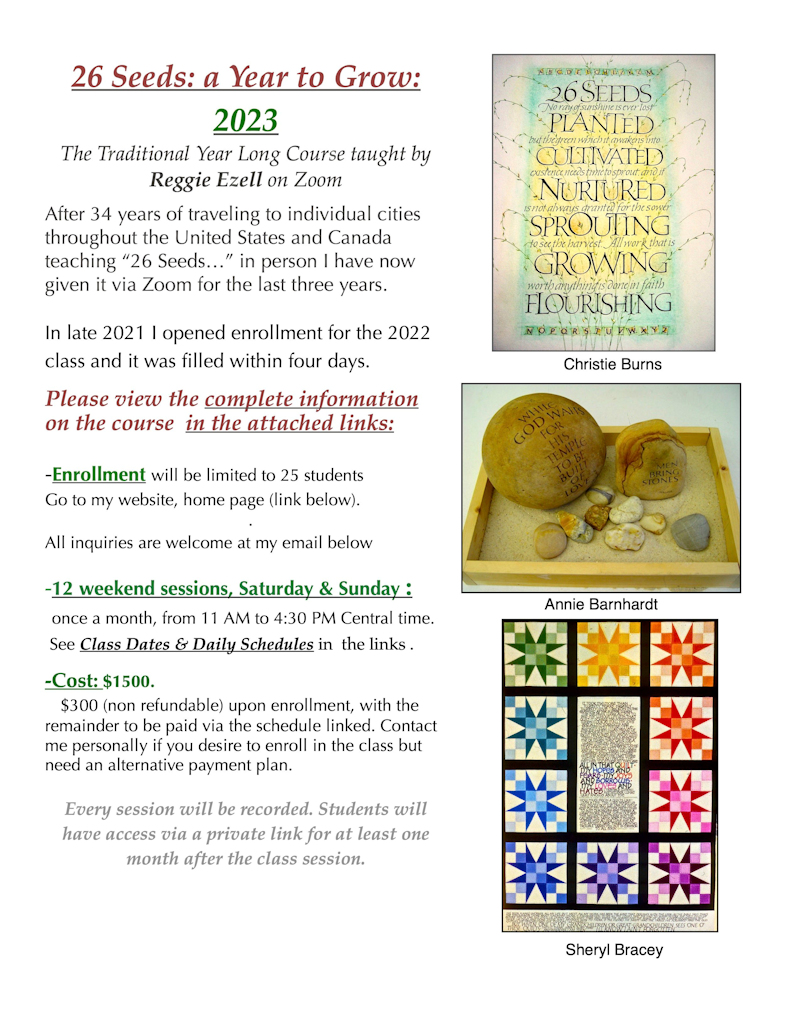 Enrollment will be limited to 25 students
Go to home page www.reggieezell.com
All inquiries are welcome at
contactreggie@comcast.net

12 weekend sessions, Saturday & Sunday :
once a month, from 11 AM to 4:30 PM Central time.

Class Dates & Daily Schedules:
https://www.dropbox.com/scl/fi/aqvax35cp09feux2sdq9m/Class-schedule....-26-seeds-2024.pdf?rlkey=infaf5u48gkjr71uaks51sped&dl=0

Course Curriculum
https://www.dropbox.com/scl/fi/oy89sn8vtnsmdg9cxnobk/26-Seeds-2024-Zoom-curriculum-copy.pdf?rlkey=75d7ifzm5wathej38bpf8sgxh&dl=0


Course Overview and Examples of Work (8 min video)
https://youtu.be/vVRwT6qQ7Ks

Cost: $1500.00

$300 (non refundable) upon enrollment, with the remainder to be paid
via the schedule linked. Contact me personally if you

Beautiful video of works from "26 Seeds..." through the years:
https://www.youtube.com/watch?v=_SoNBEt_RKQ
active link for course information: www.reggieezell.

Every session will be recorded. Students will have access via a private link for at least two months after the class session.
_________________________________
Beautiful video of works from "26 Seeds..." through the years:
https://www.youtube.com/watch?v=_SoNBEt_RKQ