PICK OF THIS WEEK - Week # 23
* * * * * * * * * *
This work is by Maggie Gillikin.
Two Misspelled Envelopes

In the San Antonio Calligraphers Guild we have a 3 month envelope exchange each Spring. This year it happily coincided with the Reggie Class inspired by the Saint John's Bible.

I used these envelopes as a practice opportunity with the incipit letterforms we were studying. I was congratulating myself on managing to get the letters done when, OF COURSE, l saw how very well l can spell! I forgot the "o" on Suzan's envelope. So… l put in a small nightingale carrying an "o" to its space - if Donald Jackson can use this method of correction, l figured it was OK!

And l thought that l was home free on Jeannine's envelope. No such luck! I hope they make you smile. The envelopes are out of the 9x12 inch Sulphite paper available in the John Neal Bookseller catalogue. I used black and red stick ink on the letterforms; the bird correction parts were done with
Derwent colored pencils.

I love to practice exciting letterforms and this 4 part class has given me new ways to look at Roman variations in particular, and Reggie's approach toward morphing letterforms to make them your own- a great class!.

* * * * * * * * * * * * * * * * *
Click on http://www.reggieezell.com/thepick
You can enjoy all the Pics of the Week from 2009 through 2022,
archived on the home page of my website www.reggieezell.com
——————————————————————————
You can contact me directly: contactreggie@comcast.net
or 773-202-8321
__________________________________________
Click to see several short (free) Calligraphy videos:
http://www.youtube.com/reggieezell
____________________________________________________
Full length calligraphy VIDEOS and PORTFOLIOS by Reggie:
www.reggieezell.com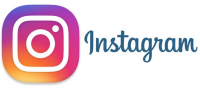 Follow me on Instagram and Facebook (@reggieezellcalligraphy)
https://instagram.com/reggieezellcalligraphy?igshid=148dz3cpok6
https://www.facebook.com/reggieezellcalligraphy/
UNSUBSCRIBE from these emails - click below.