This work is by Beth Paul.
"My Complicated Color Wheel"

Finished piece approximately 10.5 inches in diameter, Hunt 22 pointed pen nib with W&N gouache on white Canson Mi Tientes paper.

The assignment was to paint a color wheel of primary, secondary and intermediate colors with shades and tints of each. We were given a flower pattern to use but I was inspired to try something different. I was taking Heather Held's Flights of Fancy Master Class at the same time, and our assignment that week was filling in shapes with flourishes and cartouches. Filling in a circle sounded like it would be a nice way to round out the week but I had to rethink my plan a bit when I realized I would be using 60 colors.

So I stuck with the traditional layout. On a piece of grid paper, I drew a large circle, divided it into 12 wedges for the colors, and drew smaller circles inside to mark where the shades/tints would be. I also made a flourish design for one section of
the wheel to have as a guide. The circle pattern was taped to my light box and the
wedge put in place for the first section to be painted.

I chose white Canson paper because it was the first piece I pulled out of my stash, and I knew all the colors would show up. I very lightly drew lines to show where the colors would go on the page.

I chose to use gouache because I wanted to be able to overlap colors without losing opacity. I put a Hunt 22 pointed nib in my penholder and I was set to go.

Well, almost. There was the matter of mixing the colors. I started with yellow, mixed the shades as instructed, made sure my Canson paper was in place and flourished my first wedge. It went well. So I turned the paper, lined up the flourish pattern on the space for red, mixed up the shades and flourished. Reset my paper and did the blue color. The process got a bit slower after that as I had to mix up purple, green, and orange and then mix the shades of each.

By the time i finished those three colors, I realized the path I was on had gotten complicated. Not only did I have to mix up 6 color combinations, blue and purple, red and orange, green and yellow, etc. to achieve a nice color in between the original colors, I also had to do the same for the shades/tints as well.

I decided it was time to stop for the day. The next morning, I took some deep breaths and started mixing. It took more time than before but the process went well and I finished the wheel with no mishaps. I even took a picture of the sixty colors laid out on my table as a reminder that simple does not always mean less work.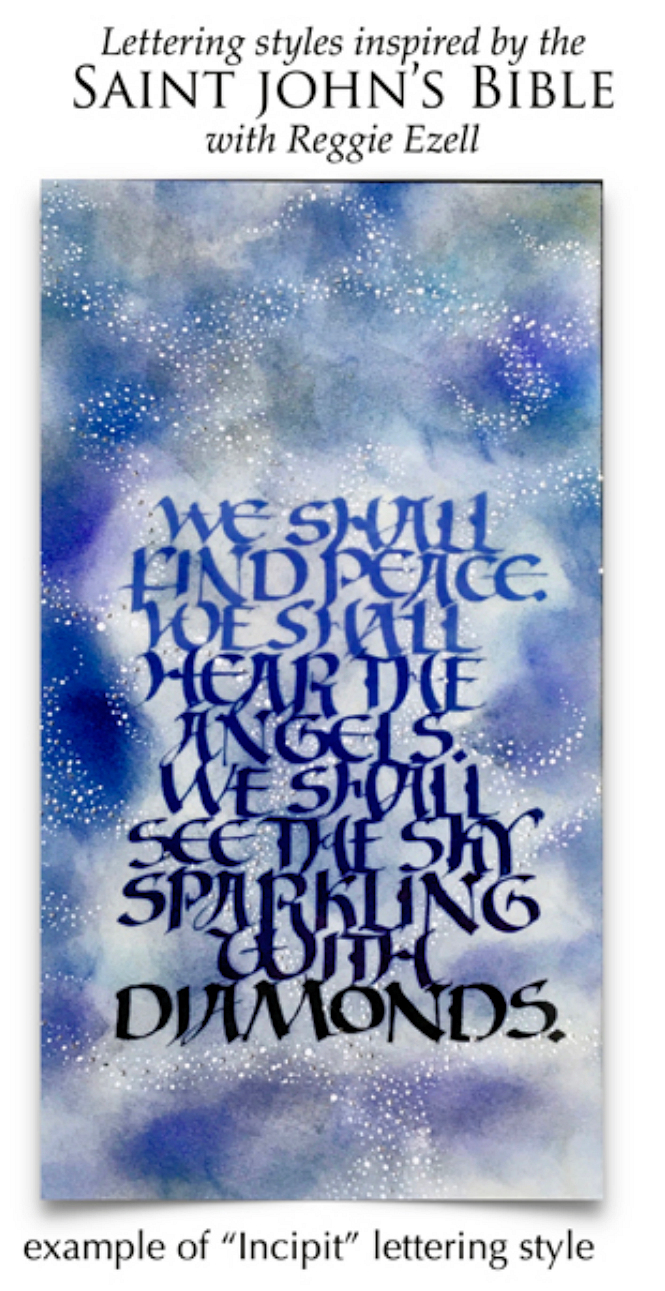 The greatest work of art in western calligraphy and illumination in the last 500 years is the Saint John's Bible.

www.saintjohnsbible.org
It is written out in essentially four different lettering styles: incipit, standard bible script, free form capitals,
and versals. We will be analyzing, writing out, and creating finished works inspired by and based on these.
More detailed information will be forthcoming in mid-February.

Class dates:
March 25, April 15, May 20, June 17
11 am to 5 pm Central Time US & Canada.
All the classes will be on Zoom. They will be recorded and available to students for at least a month after the class dates.



Cost:

$200 - To enroll click

Add to Cart Below

after payment you will receive an email from me with instructions.

* * * * * * * * * * * * * * * * *